İlan yayından kaldırılmıştır!
Position Level
Specialist
Department
Planning
Planning
Redirection Count
129 redirection
Job Type
Position Level
Redirection Count
Department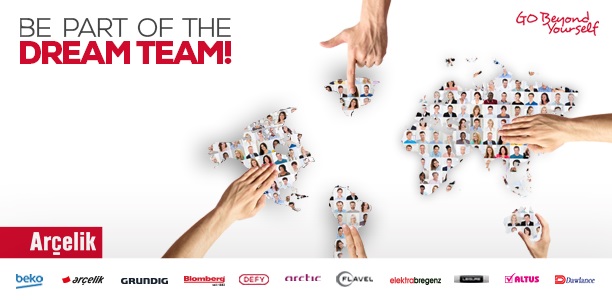 QUALIFICATIONS AND JOB DESCRIPTION



How do we describe the perfect match?

Having knowledge of SAP or ERP system,
Having knowledge of MS Office programs
Thinking broadly about business,
Understanding needs of the market & customer,
Having the desire to do outstanding jobs,
Recognizing and understanding emotions of other people,
Listening different perspectives and showing flexibility,
Building collaboration,
Clear in communicating thoughts and ideas.
We are an equal opportunity employer. All applicants will be considered for employment without attention to race, sex, color, national or social origin, ethnicity, religion, age, pregnancy, disability, sexual orientation, gender identity and expression, marital status or political opinion.
By being one of the 'People of Arçelik';
You can benefit from the perks of our hybrid working model and enjoy being part of an agile team.
You'll be a part of our "going global journey".
We will support you with the most appealing personal development opportunities to keep up your full potential. While at the same time, develop your skills and competencies for future technologies.
Enjoy our high-quality home appliances with your employee discount.
While working remotely, we got your back! We support you with portable modem and internet connection.
Get the advantage of shopping and eating at discounted prices in various places using the Koç Ailem card.
You will be able to enjoy the nature and the services in Koç Korusu. (KTSK)
Chill out coffee places to pamper yourself at the office.
Pick, choose and combine your side benefits with Flextra.
You'll get a chance to bring out the leader in you while working at the leading trusted lifestyle solutions provider.
The quality of our products and services begin with the quality of our people. We believe that every individual at Arçelik is unique. Their uniqueness is the magic that makes up our world.
At Arçelik, a trusted lifestyle solutions provider to the digital household, we are all for changing the world for better. We treat life of nature with respect. The starting point of our technology is sustainable development. We believe the diversity of our people is the driving force of our innovative culture. Each of our employees is unique and the quality of our products and services begin with the quality of our people. Our more than 40.000 employees around the world give power to our future.
Apply and let's grow, respect, lead together
What awaits you in this role? We are looking for a Technican – Material Planning who will work for Dishwasher Directorate.
Planning of material requirements for serial production,
Coordinating of supply chain for serial production materials from local and foreign suppliers,
Following inventory levels according to business targets,
Managing material flow for daily & long-term purchase orders,
Coordinating and following transport requirements of material shipments,
Managing stock levels of critical components,
Managing the obsolete materials,
Developing strong relationships with suppliers and improve supplier capability,
Making sure that the right materials are in stock in the required time frame.
The position is located in Ankara.
2 - 3 years of experience
Bachelor's(Graduate), Master's(Student)
English(Reading : Advanced, Writing : Advanced, Speaking : Advanced)