Position Level
Medium Level Manager
Department
Occupational Health and Safe...
Occupational Health and ...
Application Count
454 application
Job Type
Position Level
Application Count
Department
Occupational Health and Safety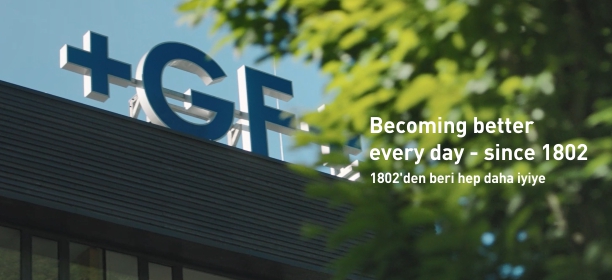 QUALIFICATIONS AND JOB DESCRIPTION
Georg Fischer Hakan Plastik is one of the world's leading manufacturers of plastic piping systems and preferred worldwide with its innovative products by producing in three main business areas: superstructure, infrastructure and agricultural irrigation.
Georg Fischer has three main activities: GF Piping Systems, GF Casting Solutions and GF Machining Solutions.
GF; is a well-established company with 125 companies in 32 countries, including 14000 employees and 50 production facilities.

GF Piping Systems; is the world's leading supplier of plastic piping systems for the transport of liquids and gases in industry, construction technology and auxiliary applications.
As the Georg Fischer Hakan Plastik family, we are looking for team mates who can contribute to our personal development and our understanding of quality service and always take us onestep further.
Graduated from relevant engineering departments of universities,
Legally required health and safety certification.
In depth knowledge of legislation and business processes in occupational health and safety systems, industrial safety,
Knowledge able to about İSO 9001 , quality management system, İSO 14001, İSO 45001 environmental management system , occupational healty and safety of number 6331 Law.
Minimum 5 years of related work experience,
Fluent in English – written and oral,
Completed military service for male candidates,
Those who reside or can live in the provinces of Tekirdağ (Çerkezköy, Çorlu, Kapaklı and Saray.)
Job Description:
Ability to communicate and collaborate with diverse groups in a large organization.
Knowledge of international instruments aimed at reducing injuries (near miss, observation, risk assessment).
Experience in industrial plant and managing high hazardous installations. Experience in process safety topic and managing high hazard installations.
Implement and handle processes and systems for health and safety hazard identification and risk management.
Create effective emergency response plan, train workforce and coordinate test plans on a defined frequency and validate emergency action plan.
Participate in incident investigations based on incident classification in partnership with specialists internally and externally or regulatory authorities to identify the root cause and help prevent recurrence.
Implement and execute controls and programs and ensure they work as planned.
Prepare for audits, governmental inspections, customer visits, identify datas and reports needed to monitor performance and compliance against goals.
Support appropriate training content and delivery mode, in line with global and regional requirements, conduct gap assessment to identify training needs, adjust curriculum to reflect site specific needs.
Understand risks applicable to contractor and external service providers, implement, monitor and evaluate approved processes to control environmental health and safety risks with contractors.
Carrying out the necessary work to reach the ''Zero'' Work Accident target.
More than 5 years of experience
Bachelor's(Graduate), Master's(Student), Master's(Graduate), Doctorate(Graduate)
English(Reading : Advanced, Writing : Advanced, Speaking : Advanced)
İlgini Çekebilecek İlanlar