İlan yayından kaldırılmıştır!
Years of Experience
No experience preference
Department
Maintenance  / Repairs / Ins...
Maintenance  / Repairs /...
Application Count
695 application
Job Type
Years of Experience
Application Count
Department
Maintenance  / Repairs / Insta...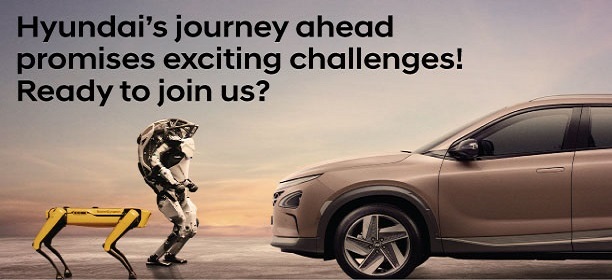 QUALIFICATIONS AND JOB DESCRIPTION
Hyundai Motor Turkey invites you to become part of one of the world's leading car manufacturers. Being a member of our international team, you have the chance to form the future of mobility together with experts inside a global company with a unique success story. As a well-organised, flexible and motivated professional, you will master diverse challenges and work in a dynamic environment with a strong customer focus.
We love to defy conventions and drive ambitious future plans with responsibility when it comes to mobility, quality and design. For these aims we need the right team and therefore, we need you. At Hyundai, we believe that the success of our organisation lies in the passion and diversity of individual members. That is why we also commit to supporting them in their personal development, while offering an inspiring work atmosphere.
Join us for creating future mobility.

We are looking for a Press & Planning Maintenance Engineer to take part in Hyundai Assan İzmit Plant located in Kocaeli;
Maintaining, troubleshooting, and repairing of process automation and software interface systems
Preparing and following up reports on downtime, unplanned downtime, Mean Time Between Failures, Mean Time To Repair, Top 10 costs, True Efficiency
Providing technical solutions to operational problems including system optimization, renewing, upgrading, commissioning and troubleshooting and ensuring root cause identification and elimination within the technical team
Define and implement maintenance plans including required spare parts, in co-operation with the team members
Solves major technical, equipment or facilities problems in order to achieve higher performance of the production lines
Manages and updates technical documentation of equipment, production lines, and/or facility
You Will Also Need To Have
Bachelor's degree in electrical, electronics or mechatronics engineering
Analytical, result oriented, team player and good communication skills,
Understanding of safety and equipment procedures
Effectively using MS Office programs and Autocad, knowledge of SAP is preferred,
Ability to work with critical equipment
Ability to work quickly and under pressure
Skills in developing technical reports
Strong interpersonal & communication skills, self-motivated, customer-oriented multi-tasking, having stress management capability
Good verbal and written communications skills in English
Living in or willing to relocate to Kocaeli
We Offer
Working on a global level and recognized internationally,
Chance to enhance your competencies and unlock your potential,
Structured training and ongoing career development,
Hybrid working model,
Flexible working hours (Flextime),
Flexible benefits,
Comprehensive private health insurance,
Casual dress code
"Hyundai Motor Turkey is an equal opportunity employer and promotes diversity in the workplace."
Bachelor's(Graduate), Master's(Student), Master's(Graduate), Doctorate(Student), Doctorate(Graduate)
English(Reading : Advanced, Writing : Advanced, Speaking : Advanced)

Yan Haklar
Özel Sağlık Sigortası, Servis, Yemekhane.
İlgini Çekebilecek İlanlar