Position Level
New starter
Application Count
329 application
Job Type
Position Level
Application Count
Department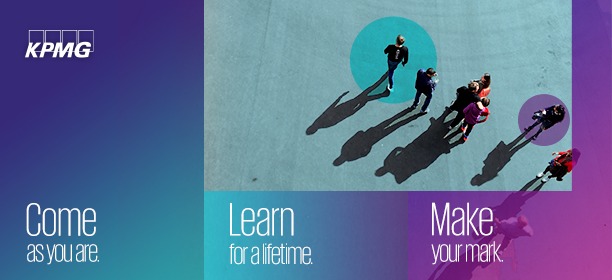 QUALIFICATIONS AND JOB DESCRIPTION
KPMG is a global organization of independent professional services firms providing Audit, Tax, Deal Advisory and Consulting services. We operate in 146 countries, have more than 220,000 people working in member firms around the World. KPMG is the chosen business partner for many of the world's leading organizations.

Wherever you join us – in Audit, Tax, Deal Advisory and Consulting services– you'll find yourself in an intellectually stimulating environment. One where disruptive technologies are embraced. One where collaboration is a way of life. One where your contribution can make a real difference to our colleagues, clients and communities.
KPMG Global Tax Advisory professionals offer a range of tax services including M&A Tax, International Tax, Global Mobility Services and Transfer Pricing services.
We are now taking applications for our New Graduate Assistant role, who will support our Global Tax Advisory Services Team.
Ability to prioritize tasks and meet tight deadlines

Excellent command of written and spoken English is a must, a second foreign language is an asset

High analytical capability, hard working,

Solution and quality-oriented,

Perform consistently at a high level under pressure,

Take on responsibility and manage priorities,

Able to work under strict deadlines

Team-worker, with excellent written and oral communication skills

Having knowledge on tax laws and financial accounting or being enthusiactic to learn
JOB DESCRIPTION
Assist in preparing reports and schedules that will be delivered to clients and other parties,

Analyze the information and documents of the target company. Take an active role in examining whether the applications of the target company is in compliance with the Turkish tax laws and calculating the relevant tax risk,

Assist in performing tax calculations and preparation of income tax returns and similar reportings/application forms,

Carry out detailed technical research in a variety of areas (domestic and international tax issues),

Involve in transfer pricing documentation and benchmark studies,

Involve in operational duties, e.g. preparation of the engagement contracts and filing of project documents etc.

Perform other required tasks.
Bachelor's(Student), Bachelor's(Graduate), Master's(Student), Master's(Graduate)
English(Reading : Good, Writing : Good, Speaking : Good)

Yan Haklar
Özel Sağlık Sigortası, Servis, Yemek Kartı (Ticket, Multinet, Sodexo vb.), Kaza Sigortası.
İlgini Çekebilecek İlanlar