İlan yayından kaldırılmıştır!
Position Level
Specialist
Department
Sales & Marketing
Sales & Marketing
Application Count
0-50 application
Job Type
Position Level
Application Count
Department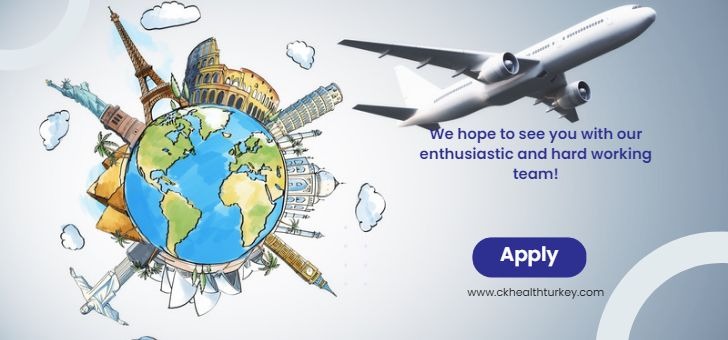 QUALIFICATIONS AND JOB DESCRIPTION
-Who Are We ?
We believe that every person's health is as unique as their own fingerprint. We offer personalized, high-quality medical serviceswith high satisfaction level; and we established CK Health Turkey with this vision.
Required Qualifications
University or college graduate,

English speakers at the native language level, (preferably mastering one of the - German, Spanish or French languages as the second language)

Strong communication skills,

Learning-loving, dynamic, passionate, development-open, innovative,

Able to write content, high verbal and intrinsic intelligence,

Strong organizational ability, business follow-up and discipline, responsible,

Prone to teamwork and compatibility,

Adaptation to a busy working pace and flexible working hours,

He has completed military service for male candidates,

Improved problem-solving skills,

Actively using MS Office programs,

Has an analytical mindset,

Patient and empathetic,

Strong representation and persuasion,

Careful and fast-working, solution-oriented,

Between the ages of 20 and 35,

Taking care of his/her appearance and personal care,

Resident or intending to live in Antalya,

Experienced – Inexperienced,
Job Description
Within the scope of health tourism; For our foreign patients, to be informed and managed about the accommodation, transfer and all treatment processes and details by establishing the first connection.

Obtaining the necessary information and ending the sale of the patients who want to come to our country from abroad within the CRM system,

Informing our incoming patients about the procedures, creating, and following appointments, directing the process correctly during the surgery process, providing translation support to the doctor during the procedures,

Informing the patient about all the procedures to be performed, making them feel safe, and providing written and oral interpreting, accommodation, and transportation services as planned.

To answer all questions of patients and their relatives who want to receive services from our institution, including but not limited to medical issues in the follow-up process and to ensure that the problems have been solved,

Full and accurate international patient registrations and follow-up of the process.

To be able to communicate with the patients who apply to our institution via WhatsApp, e-mail and a call in English or other languages that it dominates.

Ensuring patient satisfaction and meeting their needs.

Coordinating communication between patient and doctor.

Ensuring the follow-up of the patients after the operation, ensuring the continuity of communication with the patients.

Reporting to the unit manager in which it is located.

Maximizing patient experience by working in coordination with other team members and doctors.
-
English(Reading : Native Language, Writing : Native Language, Speaking : Native Language)