İlan yayından kaldırılmıştır!
Position Level
Specialist
Application Count
125 application
Job Type
Position Level
Application Count
Department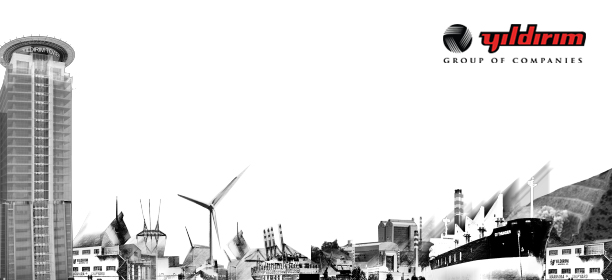 QUALIFICATIONS AND JOB DESCRIPTION
Yıldırım Group of Companies based in Istanbul Turkey is one of Turkey's fastest growing companies. It is a vertically integrated industrial conglomerate, which operates in more than 9 different sectors of which mining and metallurgical operations is its flagship industry group. YILMADEN, the group's mining subsidiary is involved in chrome mining operations in Turkey and Kazakhstan, own ferrochrome production facilities in Russia, Sweden, Albania and Turkey. YILMADEN's focus is on exploring, mining and processing mineral resources with minimal impact on the environment.
If you have a successful track record and thrive on challenges in a fast paced environment, Yıldırım Group of Companies may indeed be the right home to build your international career.

Job Descrıption
To make and follow daily, weekly, monthly and annual production planning,

To follow the realization of the production plan and control activities,

To pursue and study possible planning revision activities,

To follow raw material requirements and consumption planning for continuous production,

To examine the possible problems in the production planning and to share the urgent actions with the relevant people,

To prepare daily, weekly, monthly production planning reports.

Performs assistance and report to Metallurgy Division Executive relevant to coordinate PPO (Production Planning Office) mechanism,
Coordinates with sales and logistic division to determine customer requirements per product/plant/furnace,
Coordinates with mining division to ensure raw material continuity per grade / plant / furnace,
Predicts raw materials /auxiliary raw materials stock criticality level and when required notify relevant people,
Develops monthly/annually production schedule detailing all requirements,
Monitors problems that occur during production, including staff shortages and machinery malfunctions,
Notifies primary executive on any delays and outages,
Organizes planning approval mechanism including sales demands, raw material requirements and maintains records,
Organizes weekly/monthly production planning meetings and prepares MOM,
Prepares reports about production planning activities and suggests ways to improve planning efficiency.
Qualification
University degree preferably from Metallurgical or/and Industrial Engineering,

Industrial Engineering MS degree is an asset,

Excellent command of both written and spoken English,

Minimum 5 years work experience in manufacturing companies ( minimum 3 years of experience in the production planning field) ,

Good knowledge in MS Office programs and ERP applications,

Analytical thinking, managing and statistical skills, team player, well organized,

Excellent interpersonal and communication skills in a multicultural work environment,

Knowledgeable about lean manufacturing methods,

No restriction for travelling to domestic and/or international locations.
More than 5 years of experience
İlgini Çekebilecek İlanlar