Kocaeli(Darıca, Gölcük, Çayırova), İstanbul(Asya)
İlan yayından kaldırılmıştır!
Years of Experience
More than 5 years of experience
Department
Research and Development (R&...
Research and Development...
Application Count
371 application
Job Type
Years of Experience
More than 5 years of experience
Application Count
Department
Research and Development (R&D)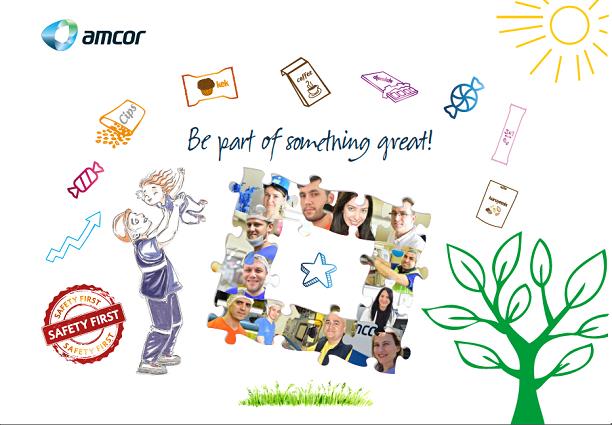 QUALIFICATIONS AND JOB DESCRIPTION
Amcor is the largest business group in the world with 55,000 co-workers, working in 250 plants in 40 countries. We deliver innovative packaging solutions and provide enhanced quality products for the food, beverage, pharm, personal care, medical and industrial markets. Its award winning approach towards sustainability makes Amcor the preferred partner for customers looking for responsible packaging solutions. Amcor Flexibles İstanbul is the İstanbul site of the global group. The leading firm exports more than half of its production and has an employee number exceeding 380 people.
QUALIFICATIONS
We are seeking Quality Assurance Manager with the following qualifications;
University Bachelor & Master's degree in Food or Chemical Engineering,

At least 15 years experience in a manufacturing company at different levels and functional areas, mainly in Quality Assurance, R&D, Quality Control and some other relevant areas (f.i. factory management, production engineering) at least 5 years as a manager in multinational company.

Advanced level of English.

Knowledge of international Food standards like BRC, IFS.

Knowledge process and products, packaging, technologies and all the law regarding the food industry,

Experience in supplier quality and food safety audit,

Advanced influencing/negotiating/persuading skills,

Ability to engage others and drive change,

No military obligation for male candidates,

Living in or willing to relocate to İstanbul Asian side or Gebze.

JOB DESCRIPTION
Aspects are;
As a member of the Management Team, influence plant leadership to ensure all quality programs and systems are implemented effectively
Improve Complaint rate and Right First time
Job Description;
Determining and implementing strategies for new products and investments in order to achieve business development goals.

Develop and lead the company Quality Strategy to implement a Quality and Food safety management policy that enables the manufacture of high quality and safe products.

Ensuring the implementation of systems like ISO 9001, 22000 and BRC in order to maintain sustanability and continous improvement of the daily operations.

Evaluate and coordinate cus

tomer complaints and rejects in order to solve issues of customers by taking preventive and corrective actions.

Establishing communication and setting times in case of crisis status. Supporting Special Situation Management team and taking part and following up crisis management

actions.
Bachelor's(Graduate), Master's(Student), Master's(Graduate), Doctorate(Student), Doctorate(Graduate)

Yan Haklar
Özel Sağlık Sigortası, Servis, Yemekhane, Yakacak.
Amcor Flexibles İstanbul İş İlanları