Position Level
Specialist
Department
Engineering
Engineering
Application Count
999+ application
Job Type
Position Level
Application Count
Department
QUALIFICATIONS AND JOB DESCRIPTION
This job posting is for General Application to ENKA Insaat. Your application will be saved in our candidate database and they will be evaluated for future positions both in Turkey and abroad.
We are looking talents to build their career in ENKA Insaat!
In ENKA family, you can;
Have a chance to work for the largest engineering and construction company of Turkey,
Be a part of a global company of over 19.000 employees,
Build your career in a company with experience over 60 years,
Gain experience in a corporate culture with aglobal management approach,
Have access to future opportunities for working in other countries over 3 continents where we are currently operating.
Please apply if you;
Have graduated from Bachelor's Degree or more,
Have good command in written and spoken English and preferably know a secondary language.
Please remember that you do not need to send an additional application via e-mail after applying for this position.
We will be contacting you if there is a position that meets your qualifications.
Thank you for your interest in ENKA Insaat!
Bachelor's(Graduate), Master's(Student), Master's(Graduate), Doctorate(Student), Doctorate(Graduate)
English(Reading : Advanced, Writing : Advanced, Speaking : Advanced)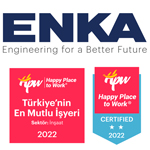 İlgini Çekebilecek İlanlar