Ankara, Bursa, İstanbul(Avr.), İzmir, İstanbul(Asya)
Position Level
New starter
Application Count
999+ application
Job Type
Position Level
Application Count
Department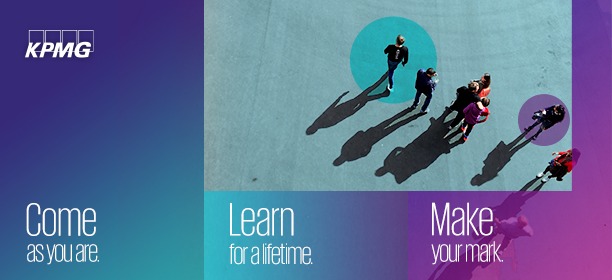 QUALIFICATIONS AND JOB DESCRIPTION
KPMG is a global organization of independent professional services firms providing Audit, Tax, Deal Advisory and Consulting services. We operate in 146 countries, have more than 220,000 people working in member firms around the World. KPMG is the chosen business partner for many of the world's leading organizations.

Wherever you join us – in Audit, Tax, Deal Advisory and Consulting services– you'll find yourself in an intellectually stimulating environment. One where disruptive technologies are embraced. One where collaboration is a way of life. One where your contribution can make a real difference to our colleagues, clients and communities.

We are now taking applications for our New Graduate Assistant role, who will support us in Audit Department.
Students who are expected to graduate until August 2022 or have graduated within the last year
Students who have or will have a Bachelor's degree from departments at the Faculty of Economics and Administrative Sciences of reputable universities in order to be eligible for Certified Public Accountant (SMMM certificate)
Fluency in English is a must, a second foreign language is an asset
Internship experience in Finance or Audit is preferred
Accounting technical knowledge is necessary
Team-worker, with excellent written and oral communication skills

High analytical capability, hard working

Ability to prioritize tasks and meet tight deadlines
JOB DESCRIPTION
Support the planning and delivery of the Audit projects
Support the execution of the Audit work, obtaining all necessary working paper and documenting the results
Work effectively as a team member, sharing the responsibility, providing support to senior team members, maintaining continuous communication and updating senior team members on progress
Assist in preparing reports and schedules that will be delivered to clients and other parties
Carry out detailed technical research in a variety of areas
Provide the necessary task in scheduled time
Develop productive working relationships with client
Perform other required task
Bachelor's(Student), Bachelor's(Graduate), Master's(Student), Master's(Graduate)
English(Reading : Good, Writing : Good, Speaking : Good)

Yan Haklar
Özel Sağlık Sigortası, Servis, Yemek Kartı (Ticket, Multinet, Sodexo vb.), Kaza Sigortası.
İlgini Çekebilecek İlanlar