İlan yayından kaldırılmıştır!
Position Level
Specialist
Department
Manufacturing / Production
Manufacturing / Producti...
Redirection Count
0-50 redirection
Job Type
Position Level
Redirection Count
Department
Manufacturing / Production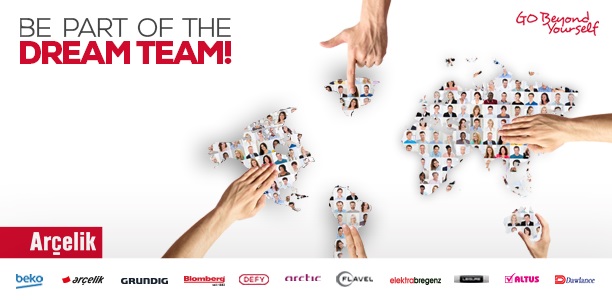 QUALIFICATIONS AND JOB DESCRIPTION

Go beyond yourself to connect your talent and experience with Technology and creativity .

We offer inventive talents the opportunity to work with innovative technologies . As a global company that offers products and services in 146 countries , we not only welcome diversity , but also inspire it with our innovation . Our more than 30.000 employees around the World give power to our future, to everyone's future by providing trusted lifestyle solutions to the digital household . In a World of rapidly -changing global dynamics , we believe in the importance of creating a common leadership culture aligned to our vision , mission and strategies , and an organizational climate that nurtures development. With in our inclusive and collaborative company culture , we work for a sustainable future through our technology, human resources and production power .

Take your place here,at Arçelik Global.

How we describe the perfect fit?

Bachelor's Degree in Industrial Engineering,
Having experience in household or similar electrical appliances,
Minimum 4 years of experience in releated area,
Having method and time studies knowledge, line balancing expertness (MTM),
Having experience in Lean Manufacturing techniques,
Having experience in efficiency, cost improvement and 6 Sigma projects ( 6 Sigma Green Belt is plus),
Having experience in ergonomics analysis,
Strong knowledge of microsoft office programs,
Preferably knowledge of AutoCAD, Embedded Programming, C, Phyton,
Excellent verbal and written skills in English,
Following and adopting the market trends and New Technologies,
Outside the box thinking ability,
Open to innovation culture,
Flexible and open to new perspectives,
A great team player with a self initiative mindset,
Knowing what empathy really means,
Being open to communication is always our priority.
The position is located in Bolu.
Arçelik is looking for a passionate Engineer - Industrial Engineering who will join our team at Cooking Appliances Directorate.
Planning and managing productivity increasing, cost improvement and investment projects,
Performing work balancing, time analysis, staff count and capacity, calculations at the assigned responsibility area,
Planning the optimum utilization of company all labor sources,
Following and analyzing facility capacity, workstation operations and ergonomics,
Ensuring the necessary process steps to be completed on time at the new product projects,
Developing ideas and to lead creative production and material handling related projects,
Optimizing process and material flow and making workplace organization and workflows arrangements,
Supporting domestic and international new factory studies and feasibility studies,
Supporting optimization projects, using simulation software,
Preparing advanced reports.
Arçelik - An Equal Opportunity Employer
4 - 5 years of experience
Bachelor's(Graduate), Master's(Graduate)
English(Reading : Advanced, Writing : Advanced, Speaking : Advanced)