İstanbul(Avr.), Kocaeli(Çayırova)
İlan yayından kaldırılmıştır!
Position Level
New starter
Department
Research and Development (R&...
Research and Development...
Redirection Count
302 redirection
Job Type
Position Level
Redirection Count
Department
Research and Development (R&D)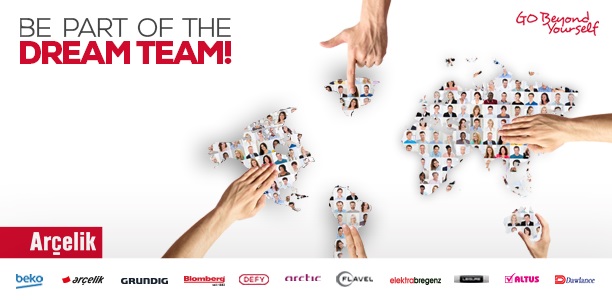 QUALIFICATIONS AND JOB DESCRIPTION

 

 

Go beyond yourself to connect your talent and experience with Technology and creativity.

We offer inventive talents the opportunity to work with innovative technologies. As a global company that offers products and services in 146 countries, we not only welcome diversity, but also inspire it with our innovation. Our more than 30.000 employees around the World give power to our future, to everyone's future by providing trusted lifestyle solutions to the digital household. In a World of rapidly changing global dynamics, we believe in the importance of creating a common leadership culture aligned to our vision, mission and strategies, and an organizational climate that nurtures development. Within our inclusive and collaborative company culture, we work for a sustainable future through our technology, human resources and production power.

 

Take your place here, at Arçelik Global.

 

How we describe the perfect fit?

 

Bachelor Degree in Mechanical or Chemical Engineering,
Capable to work with international teams,
Excellent verbal, written and presentation skills,
Following and adopting the market trends and new Technologies,
Outside the box thinking ability,
Open to innovation culture,
Flexible and open to new perspectives,
A great team player with a self-initiative mindset,
Knowing what empathy really means,
Being open to communication is always our priority.
The position is located in Çayırova.     
How will you foster the change?
We are looking for a passionate Project Engineer - R&D (System Design) who join our team at Washing Machine Product Directorate, System Design&Components Team. 
Development of washing and washer/dryer machines systems and their components,
Improvement and optimization of system design of current washing and washer/dryer machines,
Developing innovative and cost competitive system and component solutions,
Being a team member of Arçelik local and global projects (China, Russia, Romania),
Following and reporting international regulations related with washing and washer/dryer products.
Arçelik An Equal Opportunity Employer
English(Reading : Advanced, Writing : Advanced, Speaking : Advanced)