Position Level
Specialist
Department
Manufacturing / Production
Manufacturing / Producti...
Application Count
662 application
Job Type
Position Level
Application Count
Department
Manufacturing / Production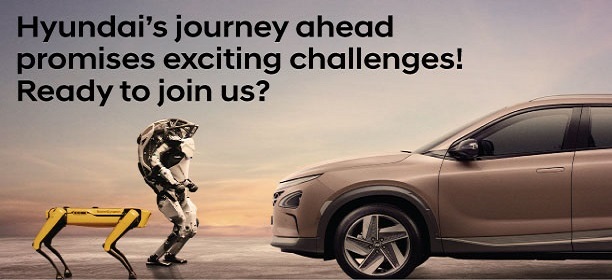 QUALIFICATIONS AND JOB DESCRIPTION
Hyundai Motor Turkey invites you to become part of one of the world's leading car manufacturers. Being a member of our international team, you have the chance to form the future of mobility together with experts inside a global company with a unique success story. As a well-organized, flexible and motivated professional, you will master diverse challenges and work in a dynamic environment with a strong customer focus.
We love to defy conventions and drive ambitious future plans with responsibility when it comes to mobility, quality and design. For these aims we need the right team and therefore, we need you. At Hyundai, we believe that the success of our organization lies in the passion and diversity of individual members. That is why we also commit to supporting them in their personal development, while offering an inspiring work atmosphere.
Join us for creating future mobility.


We are looking for a Vehicle Systems Engineer to take part in Hyundai Assan Izmit Plant located in Kocaeli;
Prepare, follow and revise technical documents related with responsible areas (Work Standards, Process Sheets etc.)

Troubleshoot, resolve and report production process, machine and quality issues

Closely follow up daily problems ,analysis and find solution ideas

Innovate and implement cost reduction, quality, safety and ergonomic ideas

Manage project related with new models

F/Up Engineering changes

Develop basic equipment concept for new equipment or modification existing, follow purchasing and installation

Follow ISO 9001, ISO 14001 and OHSAS 18001 procedures and instructions
You Will Also Need To Have
University degree (BS/MS) preferably in related fields such as Mechanical Engineering, Mechatronics Engineering or Automotive Engineering etc.
Analytical mind for root cause analysis and decision making
Ability to work effectively cross-functionally and cross-culturally

Having high reporting , analysis and follow up skills

Strong computer skills (MS Excel, PowerPoint, Catia, etc.)

Strong verbal & written communication and presentation skills

Advanced level of written and spoken English

Ability to operate in challenging situations within timing constraints

No travel restrictions and capability of driving

Reside/Willing to reside in Kocaeli
We Offer
Working on a global level and recognized internationally,
Chance to enhance your competencies and unlock your potential,
Structured training and ongoing career development,
Hybrid working model,
Flexible working hours (Flextime),
Flexible benefits,
Comprehensive private health insurance,
Casual dress code
"Hyundai Motor Turkey is an equal opportunity employer and promotes diversity in the workplace."
More than 1 years of experience
Bachelor's(Graduate), Master's(Student), Master's(Graduate), Doctorate(Student), Doctorate(Graduate)
English(Reading : Advanced, Writing : Advanced, Speaking : Advanced)

Yan Haklar
Özel Sağlık Sigortası, Servis, Yemekhane.
İlgini Çekebilecek İlanlar